Check out Fairbanks Energy's photo recap of November featuring Salesforce's Dreamforce conference and our Annual Thanksgiving Dinner at Scarlett Oak Tavern. We hope everyone had a great Thanksgiving holiday last week!
We started the month of November at Dreamforce, the largest software conference in the world hosted by Salesforce in San Francisco. The conference features 2,700+ breakout sessions, training and certification opportunities, hands-on demos, and hundreds of partners and solutions to help businesses grow their success.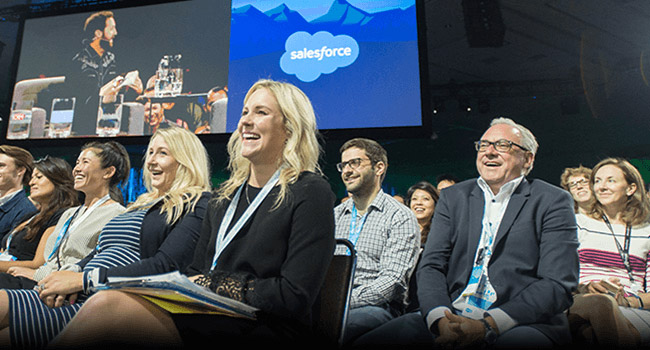 We set out to learn about their latest software solutions toimprove and automate our organizations processes. Although the conference was overwhelming at times, presenting so many opportunities and new products, we left feeling energized and excited to transform our business strategy!
We sat in on the B2B marketing keynote that featured how Ticketmaster, Cox Automotive and SPCA International
are using Salesforce to find more leads, close more deals, and maximize marketing ROI.
We made sure to fit in some tourist attractions! The Golden Gate Bridge on a beautiful fall day.
A highlight of the trip was the Dreamfest concert put on by Salesforce at AT&T Park. Performances included Lenny Kravitz and Alicia Keys! To top it off, we watched the entire show from the San Francisco Giants' dugout!
At the end of the month, we held our annual "End of the Year Review" to evaluate 2017 projects and progress and to strategize for 2018. Since our MA, CT and NYC offices were all able to make the meeting at our headquarters, we gathered around our Christmas tree for our holiday photo.
As a company we are gathering toys to donate to our local Toys for Tots warehouse.
Contact us if you are interested in helping out!
Following our meeting, we went to Scarlett Oak Tavern for our Annual FES Thanksgiving Dinner!
Since Fairbanks Energy grew by 6 employees this year, we are now too big for one table.

It was a great gathering before we each headed home for the holiday.
As the year is coming to a close, we want to thank everyone we have worked with in this past year and who has contributed to our growth. We are looking forward to a successful 2018!